Edit: Added Twitter commentary
Edit: At 5:27pm PT on 2022-11-02, Dr. Bateson tweeted: Omg, it's officially gone!! Google no longer says I'm a politician!!!.
Yet again someone is compelled to take to Twitter to issue a complaint to Google about incorrect information about them in search results and to appeal for correction.
This time it is Regina Bateson, an assistant professor at the Graduate School of Public & International Affairs at the University of Ottawa.
Google is calling her a politician. She isn't one. She, rightfully, wants it corrected.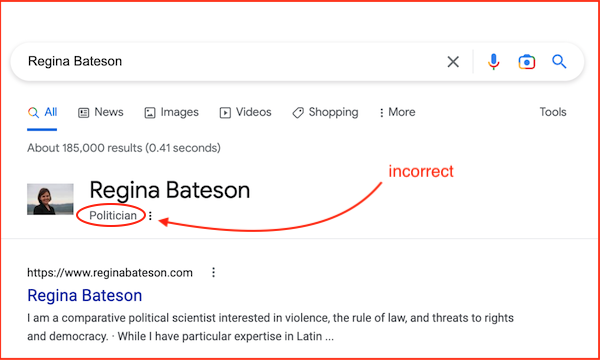 This short blog post is partially an attempt to provide "web evidence" to aid their appeal for correction. It is also important to make note of these failures—not just the incorrect information but the work required to correct them. Just yesterday I had a conversation with someone who offhandedly passed on conventional wisdom, the searching-sublime, about how easy it was to search for everything. It is important to puncture perceptions of Google omniscience, to add friction to the automation bias and the granting of authority to whatever shows up at the top of Google search results. Perhaps reflecting on these will help us stop 'just googling' and reimagine what just–reasonable, responsive, responsible–search engines might be.
Web evidence:
Regina Bateson is not a politician. Dr. Bateson (Ph.D. in Political Science, Yale) is a political scientist and professor at the University of Ottawa. This is documented throughout the web: her faculty page at the University of Ottawa, her personal website, her ORCiD, The Conversation, WBUR (Boston's NPR news station), etc. In 2014, MIT News also identified her as a political scientist. Though she ran for office once she is not, by most any definition, a politician. The Google-provided label is incorrect, deceptive, and non-representative. Why doesn't Google correct their search results? Or why does it take so much work and time for corrections to happen?
---
Further reading. I'm not going to exhaustively discuss this issue here, just two items:
---
Quote-tweet from Vivek Krishnamurthy (law professor at University of Ottawa and director of the Samuelson-Glushko Canadian Internet Policy and Public Interest Clinic (CIPPIC)), of a quote-tweet from Regina Bateson, asks about how this, "Google's failure to correct a false, AI-generated "Knowledge Panel" description of a person", interacts with new and proposed laws:
Another account mentioned an earlier case where a privacy expert apparently had to go to great lengths, and get media attention, to get Google to correct a knowledge panel that put his photo on a description of someone else with the same name: Leo Kelion (2019) "Google faces winged-monkey privacy protest" in the BBC.
"Omg, it's officially gone!! Google no longer says I'm a politician!!!"
She also tweeted: "I suspect (though can't prove) this label made my path back into academia harder than it would've been otherwise."
Well, it was understandable when I was running for office & maybe for a couple months or a yr after. But years 2,3 & 4 were just unnecessary. I suspect (though can't prove) this label made my path back into academia harder than it would've been otherwise. VERY GLAD it's gone!! 😊